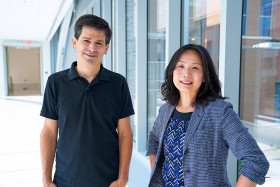 Virginia Tech Department of Psychology faculty, Pearl Chiu and Brooks King-Casas have identified neural learning processes to be associated with symptoms of depression and linked improvements in these processes to improved symptoms in research participants being treated for depression.
The findings, described in a study published July 28 in the Journal of the American Medical Association (JAMA) Psychiatry, suggest distinct paths to depression symptoms and new mathematically guided approaches for treating clinical depression. 
"Current medications and behavioral therapies are helpful, but for many people struggling with depression, existing treatments don't work well," said study's corresponding author Pearl Chiu, an associate professor at Virginia Tech Department of Psychology and also at the Fralin Biomedical Research Institute Computational Psychiatry Unit. "We need to consider other possible paths to depression. These paths, or mechanisms, could point to new treatment targets to explore." 
The scientists used computational models of brain functioning as a new way to consider mechanisms of depression. In a key discovery, the researchers found that the symptom improvements that followed cognitive behavioral therapy were related to improvements in reinforcement learning components that were disrupted prior to therapy.
"Depression is a very serious illness and a leading cause of disability in the world. We hope that our work can be a bridge between behavioral clinicians and computational scientists to more precisely identify what causes depression and new ways to treat the illness," said first author Vanessa Brown, a former doctoral student with Chiu in Virginia Tech's Department of Psychology who is now an assistant professor of psychiatry at the University of Pittsburgh.