About Us
Welcome to the C.A.P. Lab at Virginia Tech. Our research focuses on brain-behavior relations, with an emphasis on frontal lobe development in infants and children. Please explore our website to learn more about our exciting research program.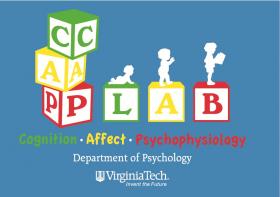 Research Interests
We study multiple aspects of cognitive development, with an emphasis on individual differences in the development of short-term/working memory. In our research studies, we focus on attention, self-regulation, and temperament as the main sources of these individual differences. Our most current work is longitudinal in nature and examines the relations between cognition and affect (or emotion) across infancy and childhood. We are focusing on the observation of behaviors, as well as developmental psychophysiology, including the measurement of brain electrical activity (EEG) and heart rate activity (ECG). This work is funded by the National Institutes of Health / National Institute of Child Health and Human Development.
 


People
Lab Members
Director:
Laboratory Coordinator:
Graduate Students:
Ran Liu, M.S.
Tatiana Garcia Meza, M.S.
Maddie Bruce, M.S.
Jennifer Phillips, B.S.
Mohamed Zerrouk, B.S.
Briana Ermanni, B.S.
 Undergraduate Research Assistants:
Riddhi Adsul
Mustafa Beidas
Amanda Dooly
Amanda Olney
Participant Information
Parents:
If you would like to find out more information about our research with infants and children, or if you and your child would like to participate in one of our studies, feel free to contact us:
Leslie Patton (Laboratory Coordinator)
Research Lab Phone: (540) 231-2320
Email: lapatton@vt.edu
Directions:
Please see the Directions to Williams Hall.
Current Research Projects

Current research projects in the CAP Lab (data collection in progress):
1) Cognition and emotion from infancy through adolescence ---  The final visit of our longitudinal study from infancy through early adolescence.  Children have participated during infancy (5 and 10 months), early childhood (2, 3, and 4 years), middle childhood (6 and 9 years) and now during adolescence. 
2) Attention biases during adolescence --- Ran's dissertation study on temperament and the tendency to look toward or away from faces.
3) Cognitive reappraisal during adolescence --- Tatiana's research on cognition and emotion regulation.
4) Brain processes during infant inhibitory control --- Our new study of cognition and attention at 9 months and 12 months. We begin recruitment on this new study this fall!  With Rachel Diana (Psychology).
Plus, our ongoing work (data collection is complete):
1) Development of inhibitory control during infancy --- Our monthly study of attention and cognition from 5 to 12 months.
2) Inhibitory control during toddlerhood --- Our quarterly longitudinal study of cognition and attention at 15, 18, 21, and 24 months.
3) Mother-child dyad synchrony --- Physiological and behavioral synchrony between mothers and children during toy play.
Plus, our collaborative work with others:
1) Maternal emotion coaching --- Emotion coaching and child outcomes during early and middle childhood.  With Julie Dunsmore (Psychology) and Jungmeen Kim-Spoon (Psychology). 
2) Mathematical operations --- Math problem solving with middle school age children and undergraduate math education majors. With Andy Norton (Mathematics) and Katy Ulrich (Teaching & Learning).
Join Us
Potential Graduate Students:
If you are interested in doctoral study in the field of Developmental Psychology in general or Developmental Cognitive Neuroscience in particular, contact us for details about our Developmental Science graduate program. Our program is committed to training students as research-oriented psychologists using the mentorship model. For information on graduate studies, visit the Developmental Science web site:

Developmental Science Graduate Program

or contact Dr. Bell at mabell@vt.edu
Recent Graduates
Jonathan E. Roberts, Ph.D. (2001)
Professor of Psychology
Director of University Honors Program
Georgia Southern University - Armstrong Campus
Savannah, GA
 
Annie Papero, Ph.D. (2004)
Head of Lower School
Sayre School
Lexington, KY
 
Christy D. Wolfe, Ph.D. (2005)
Associate Professor of Psychology
Bellarmine University
Louisville, KY
 
Hossam M. (Zaki) Said, Ph.D. (2005) 
Manager, Ergonomics - Customer Testing Center CTC, Commercial 
The Egyptian Company for Mobile Services Mobinil 
Cairo, Egypt 
Denise R. Friedman, Ph.D. (2006)
Associate Professor of Psychology 
Hampton University
Hampton, VA
Katherine C. Morasch, Ph.D. (2007) (Postdoctoral Fellow 2007-10)
Scientific Review Officer, CPDD Study Section
Center for Scientific Review, National Institutes of Health
Bethesda, MD
Annie M. Cardell, Ph.D. (2009)
Associate Professor of Psychology 
University of Charleston 
Charleston, WV
 
Vinaya (Raj) Rajan, Ph.D. (2012)
Assistant Professor of Behavioral and Social Sciences 
University of Sciences
Philadelphia, PA
 
Anjolii Diaz, Ph.D. (2012) 
Assistant Professor of Psychological Science 
Ball State University
Muncie, IN 
Kimberly Cuevas, Ph.D. (Postdoctoral Fellow, 2009-12) 
Associate Professor of Psychology
University of Connecticut
Waterbury, CT
Jess Kraybill, Ph.D. (2013) 
Assistant Professor of Psychology
Western Connecticut State University
Danbury, CT
Amanda (Watson) Joyce, Ph.D. (2014) 
Assistant Professor of Psychology
Murray State University
Murray, KY
Tashauna Blankenship, Ph.D. (2017)  
Postdoctoral Fellow, Center for Systems Neuroscience
Boston University
Boston, MA
Alleyne (Ross) Broomell, Ph.D. (2019) 
Assistant Professor of Psychology
Western Carolina University
Cullowhee, NC
Links and Resources
Virginia Tech
Related Professional Organizations