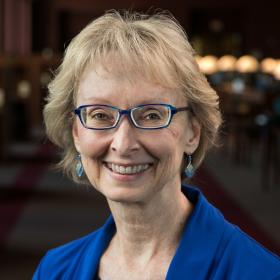 University Distinguished Professor
College of Science Faculty Fellow
Faculty, Department of Psychology
Faculty, Developmental Science Graduate Program
Director, The CAP Lab
Office Hours
*Fall 2023*
M 4-5
Tu 2-3
Th 9-10

Office Address
333 Williams Hall
Short Bio
since 2021 --- University Distinguished Professor, Virginia Tech
since 2019 --- College of Science Faculty Fellow, Virginia Tech
since 2010 --- Professor of Psychology, Virginia Tech
2001-2010 --- Associate Professor of Psychology, Virginia Tech
1996-2001 --- Assistant Professor of Psychology, Virginia Tech
Interests
Developmental changes in brain-behavior relations during infancy and early childhood; developmental cognitive neuroscience and developmental psychophysiology (executive function, emotion regulation, EEG, ECG); individual differences in development; integration of cognition and emotion in early development.
Recent Courses Taught
PSYC 6944 - Advanced Topics in Developmental Psychology (spring 2023 seminar - "Developmental Psychobiology of Early Executive Function")
PSYC 5544 - Cognitive Development
PSYC 4034- Special Topics in Dev Psyc ("Child Cognitive and Social-Emotional Development")
Select Publications
RECENT CHAPTERS:
Cuevas, K., & Bell, M.A. (2022). EEG frequency development across infancy and childhood. In P. Gable, M. Miller, & E. Bernat (Eds.), Oxford handbook of human EEG frequency analysis (pp. 293-323). Oxford University Press.
Bell, M.A., Phillips, J.J., & Bruce, M.D. (2022). Infant and toddler working memory. In M.L. Courage & N. Cowan (Eds.), The development of memory in infancy and childhood, 3rd Ed (pp. 87 – 110). New York: Routledge Press.


RECENT JOURNAL PUBLICATIONS:
2023
Bertrand, C., Bell, M.A., & Deater-Deckard, K. (2023). Maternal executive function, authoritarian attitudes, and hostile attribution bias as interacting predictors of harsh parenting. Journal of Family Psychology, 37(3), 388–397.
Bruce, M., Ermanni, B., & Bell, M.A. (2023). The longitudinal contributions of child language, negative emotionality, and maternal positive affect on toddler executive functioning development. Infant Behavior and Development, 72, e101847
Bruce, M., Savla, J., & Bell, M.A. (2023_online). From terrible twos to sassy sixes: The development of vocabulary and executive functioning across early childhood. Developmental Science, e13396.
Hassan, R., Smith, C.L., Schmidt, L.A., Brook, C.A., & Bell, M.A. (2023_online). Developmental patterns of children's shyness: Relations with physiological, emotional, and regulatory responses to being treated unfairly. Child Development.
Liu, R., & Bell, M.A. (2023). Fearful temperament in middle childhood predicts adolescent attention bias and anxiety symptoms: The moderating role of frontal EEG asymmetry. Development and Psychopathology, 35, 1335-1345.
Meza-Cervera, T., Kim-Spoon, J., & Bell, M.A. (2023). Adolescent depressive symptoms: The role of late childhood frontal EEG asymmetry, executive function, and adolescent cognitive reappraisal. Research on Child and Adolescent Psychopathology, 51, 193-207.
Phillips, J.J., Bruce, M., & Bell, M.A. (2023). Setting the stage: Biopsychosocial predictors of early childhood externalizing behaviors. Developmental Psychobiology,65, e22391.
Wolfe, C.D., & Bell, M.A. (2023). The interplay between cognition and emotion during infancy and toddlerhood: Special issue editorial. Infant Behavior and Development, e101845.


2022
Blankenship, T.L., Calkins, S.D., & Bell, M.A. (2022). The role of executive functions in item recognition and temporal order memory development. Journal of Cognition and Development, 23, 135-147.
Broomell, A.P.R., & Bell, M.A. (2022). Longitudinal structure of executive function from infancy to late childhood. Cognitive Development, 63, e101229.
Bruce, M., & Bell, M.A. (2022). Vocabulary and executive functioning: A scoping review of the unidirectional and bidirectional associations across early childhood. Human Development, 66, 167-187.
Bruce, M., McFayden, T.C., Ollendick, T.H., & Bell, M.A. (2022). Expressive language in infancy and toddlerhood: The role of child temperament and maternal parenting behaviors. Developmental Psychobiology, 64, e22287.
Bruce, M., Miyazaki, Y., & Bell, M.A. (2022). Infant attention and maternal education are associated with childhood receptive vocabulary development. Developmental Psychology, 58, 1207-1220.
Gartstein, M.A., Seamon, E., Mattera, J.A., Enlow, M.B., Wright, R.J., Perez-Edgar, K., Buss, K., LoBue, V., Bell, M.A., Goodman, S.H., Spieker, S., Bridgett, D.J., Salisbury, A.L., Gunnar, M., Muzik, M., Stifter, C., Planalp, E.M., Mehr, S., Spelke, E., Lukowski, A.F., Groh, A., Lickenbrock, D.M., Santelli, R., Schudlich, T.D., Anzman-Frasca, S., Thrasher, C., Diaz, A., Dayton, C., Moding, K., Jordan, E.M., & Miliner, S. (2022). Using machine learning to understand age and gender classification based on infant temperament. PLOS ONE, e0266026.
Meza-Cervera, T., Tucker, A., Liu, R., & Bell, M.A. (2022). Child emotion inhibition mediates the effect of parent's adaptive cognitive emotion regulation on child frontal EEG asymmetry during reappraisal. Developmental Psychobiology, 64, e22339.
Zerrouk, M., Diaz, A., & Bell, M.A. (2022). Inhibitory control moderates the association between fear and attention bias to snakes in middle childhood. Cognitive Development, 64, 101253.
Degrees
1992 --- PhD, Human Development, Univ of Maryland
1983 --- MS, Child and Family Studies, Univ of Tennessee
1978 --- BS, Home Economics, Carson-Newman College