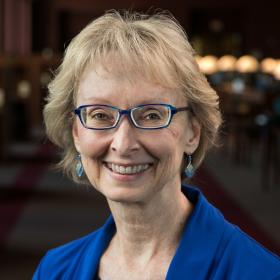 Faculty, Department of Psychology
Faculty, Developmental Science
Director, CAP Lab
Office Hours
Office hours during Fall 2019 TBD.
Office Address
333 Williams Hall
Interests
Developmental changes in brain-behavior relations during infancy and early childhood; developmental cognitive neuroscience and developmental psychophysiology (executive function, emotion regulation, EEG, ECG); individual differences in development; integration of cognition and emotion in early development.
Recent Courses Taught
PSYC 6944 - Advanced Topics in Developmental Psychology ("Developmental Affective Neuroscience"; "Early Development of Self Regulation"; "Cognition-Emotion Interactions in Early Development"; "Developmental Psychophysiology"; "Frontal Lobe Development and Effortful Control")
PSYC 5544 - Cognitive Development ("Developmental Cognitive Neuroscience")
PSYC 4034- Developmental Psychology (taught with a focus on infant/child cognitive & social development theory/research)
Select Publications
Blankenship, T. L., Slough, M. A., Calkins, S. D., Deater-Deckard, K., Kim-Spoon, J., & Bell, M.A. (2019). Attention and executive functioning in infancy: Links to childhood executive function and reading achievement. Developmental Science, e12824.
Brito, N.H., Fifer, W.P., Amso, D., Barr, R., Bell, M.A., Calkins, S., Flynn, A., Montgomery-Downs, H.E., Oakes, L.M., Richards, J.E., Samuelson, L.M., & Colombo, J. (2019). Beyond the Bayley: Neurocognitive assessments of development during infancy and toddlerhood. Developmental Neuropsychology, 44, 220-247.
Broomell, A.P.R., Savla, J., & Bell, M.A. (2019). Infant electroencephalogram coherence and toddler inhibition are associated with social responsiveness at age 4. Infancy, 24, 43-56.
Diaz, A., Swingler, M.S., Tan, L., Smith, C.L., Calkins, S.D., & Bell, M.A. (2019). Infant frontal EEG asymmetry moderates the association between maternal behavior and toddler negative affectivity. Infant Behavior and Development, 55, 88-99.
Dunsmore, J., Ashley, R., Zhou, Y., Swain, D., Factor, R., Broomell, A., Waldron, J., Bell, M.A., & Scarpa, A. (2019). Marching to the beat of your own drum? A proof-of-concept study assessing physiological linkage in Autism Spectrum Disorder. Biological Psychology, 144, 37-45.
Kim-Spoon, J., Deater-Deckard, K., King-Casas, B., Calkins, S., & Bell, M. A. (2019). Commonality between executive functioning and effortful control related to adjustment. Journal of Applied Developmental Psychology, 60, 47-55.
Kraybill, J.H., Kim-Spoon, J., & Bell, M.A. (2019). Infant attention and age 3 executive function. Yale Journal of Biology and Medicine, 92, 3-11.
Degrees
since 2016 --- Adjunct Professor of Neuroscience, Virginia Tech
since 2015 --- Affiliated Faculty in Human Development, Virginia Tech
since 2014 --- Professor of Health Sciences, Virginia Tech
since 2012 --- Professor of Basic Science, VT Carilion School of Medicine
since 2010 --- Professor of Psychology, Virginia Tech
2001-2010 --- Associate Professor of Psychology, Virginia Tech
1996-2001 --- Assistant Professor of Psychology, Virginia Tech
1993-96 --- Visiting Assistant Prof of Psychology, Univ of South Carolina
1993 --- Research Associate, Child Dev Research Lab, Univ of Maryland
1992 --- Ph.D., Human Development, Univ of Maryland
1983 --- M.S., Child and Family Studies, Univ of Tennessee
1978 --- B.S., Home Economics, Carson-Newman College