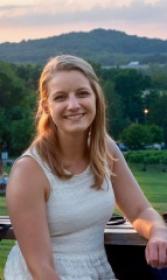 Short Bio
Jennifer completed her undergraduate work at Binghamton University and then worked as a clinical research assistant at the Center for Autism Research at the Children's Hospital of Philadelphia before coming to Virginia Tech. Her research interests focus on interventions for children with ASD that maximize parent and sibling involvement, and she is particularly interested in understanding and overcoming barriers to access-to-care for families in diverse and low-resource communities.
Interests
Autism spectrum disorder
Parent and sibling involvement in intervention
Understanding and addressing barriers to access to care
Care systems in rural and diverse communities
Select Publications
McFayden, T.C., Breaux, R., Bertollo, J.R., Cummings, K., & Ollendick, T.H. (In press). COVID-19 remote learning experiences of youth with neurodevelopmental disorders in rural Appalachia. Journal of Rural Mental Health.


Tschida, J.E., Bertollo, J.R., Kuschner, E.S., Maddox, B.B., Miller, J., Ollendick, T.H., Greene, R.W., & Yerys, B.E. (2021). Short Report: Caregiver perspectives on challenging behaviors treatment for school-age autistic children. Research in Autism Spectrum Disorders, 81, doi:10.1016/j.rasd.2020.101714.


Bertollo, J.R., Strang, J.F., Kenworthy, L., Wallace, G.L., & Yerys, B.E. (2020). Adaptive behavior in youth with autism spectrum disorder: The role of flexibility. Journal of Autism and Developmental Disorders. doi: 10.1007/s10803-019-04220-9.


Bertollo, J.R. & Yerys, B.E. (2019). More than IQ: Executive function skills explain adaptive behavior above and beyond IQ in youth with autism and intellectual disability. American Journal of Intellectual and Developmental Disabilities, 124(3), 191-205. doi:10.1352/1944-7558-124.3.191.