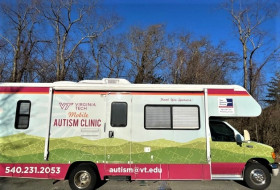 The Virginia Tech Autism Clinic & Center for Autism Research (VTAC/CAR) is proud to have the Washington Group Special Care Planning Team as a sponsor of the Virginia Tech Mobile Autism Clinic.
VT Alum Jerry Hulick, advocate for the special needs community and founder of the planning team, continues to support the services and research of VTAC/CAR, including our Mobile Autism Clinic. His true serving spirit and love of Virginia Tech shows us all "Ut Prosim" In Action. Read the article and learn more about his support of VTAC and VTCAR over the years, his impact on Virginia Tech as a whole and his work with the Special Care planning team, which offers financial planning services for families of children with special needs. 
 
We express deep appreciation to the Washington Group Special Care Planning Team for their generous support through the years.  We're excited to have their logo recently placed on the MAC for all to see!