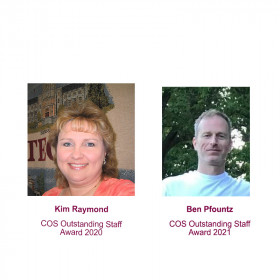 Congratulations to our Award Winning Staff!
Kim Raymond, COS Outstanding Staff Award 2020
In Psychology, Kim is the only person to handle the daily onslaught of purchase requests, petty cash transactions, and budget reconciliations initiated by faculty and graduate students in the department, sponsored programs staff, and the Controller's office. In addition to the many electronic requests that come her way via e-mail, HokieMart or Banner, at any moment a faculty member who needs anything purchased or who has a question about a sponsored program account will walk into her office and require her attention. And there is no one else in this department who knows how to help. Kim is as dedicated to working with graduate students with smaller internal grants as she is to working with faculty with million-dollar external grants. Kim has enhanced the scientific productivity of all the Psychology faculty and graduate students.
Kim's title is budget manager, but the title does not accurately describe her actual contributions to the department. She is the glue that holds all of the activities of the department together. She is never too busy to answer a question, alert us to a potential problem, or say, "I can take care of that."
Ben Pfountz, COS Outstanding Staff Award 2021
Ben has the responsibility to develop and maintain state-of-the-art computer and network services throughout the department. His expertise is critical to the productivity of Psychology faculty and graduate students.  In a department of 28 faculty and 55 Ph.D. students, there is always a hardware, software, or data security issue.
In Psychology, almost all our research involves human participants. Much of our research involves our behavioral coding of video interactions of research participants. The systems Ben designed during the Covid-19 pandemic allowed all of us in the department the ability to move our research forward from the safety of our home environments. Ben worked tirelessly to enable faculty and graduate students to be able to work on research and teaching remotely and securely. It is not an exaggeration to say that without Ben's initiative and expertise almost all research in the Psychology department would have stopped during the pandemic.