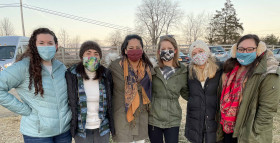 Virginia Tech Psychology students in their 4th through 6th years of the program successfully matched for Phase I of the APPIC Psychology Clinical Internship on Friday, February 19th. This year's 100% clinical match continues after Virginia Tech's long, outstanding record for matching for internships. Students will start their internship year in the summer of 2021 at the following institutions:
Jordan Albright - University of Pennsylvania Dept of Psychiatry, Child/Developmental Disabilities Track
Ligia Antezana - Western Psychiatric Institute & Clinic
Angela Dahiya - UC Davis Children's Hospital - CAARE Center
Alyssa Gatto - Alpert Medical School of Brown University, Child-Juvenile Justice/Behavioral Health
Tyler McFayden - University of North Carolina School of Medicine, Carolina Institute for Developmental Disabilities
Mia Tankersley - UCLA Semel Institute, Stress, Trauma & Resilience
The clinical internship is a 1-year-long clinical fellowship which represents the capstone of clinical training for clinical psychology Ph.D. students. 
Students celebrated their Phase I Match via a socially-distanced, masked gathering at Rising Silo to watch the sun set.