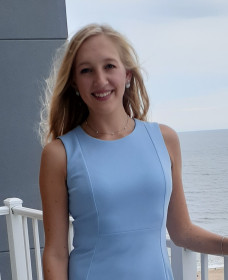 Janey Dike was selected as one of 10 summer fellows with The Virginia Academy of Science, Engineering and Medicine (VASEM) as a Commonwealth of Virginia Engineering and Science (COVES) Policy Fellow. This is a 12-week program, which aims to strengthen ties between the scientific community and state government in the Commonwealth of Virginia, while encouraging and equipping more scientists and engineers to be effective advisors for public policy in the state of Virginia.
As part of the 2021 cohort, Janey is being trained in science policy and science communication. Her placement is with the Virginia Department of Behavioral Health and Developmental Services (DBHDS). In this role, Janey will be supporting the implementation of a statewide initiative to enhance comprehensive behavioral healthcare in Virginia called Project BRAVO. A few aims of this initiative are to improve mental health care, to address disparities in care, and to implement accessible, evidence-based services.
Congratulations Janey!
Written by: Dr. Roseanne J. Foti