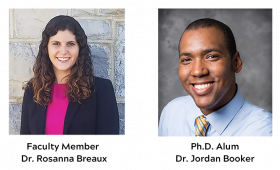 The Psychology Department is very pleased to announce that faculty member, Dr. Rosanna Breaux and Ph.D. alumni, Dr. Jordan Booker have been named an Association for Psychological Science Rising Star for 2021!  The APS Rising Star designation is presented to outstanding APS members in the earliest stages of their research career post-PhD. This designation recognizes researchers whose innovative work has already advanced the field and signals great potential for their continued contributions.
Dr. Breaux is an Assistant Professor in our department and her research focuses on the emotional, academic, and social functioning of children and adolescents, particularly those with ADHD.

Dr. Booker is an Assistant Professor at the University of Missouri and his research focuses on aspects of emotional, personality, and identity development as they relate to well-being and resilience for children, teens, and younger adults.
CONGRATULATIONS to you both!
Written by Dr. Roseanne Foti.