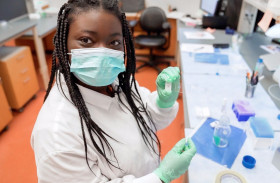 Congratulations to Niesha Savory, a psychology and clinical neuroscience undergraduate student at Virginia Tech who conducts research at the Fralin Biomedical Research Institute at VTC, has always been fascinated with how the brain works. Savory was recently awarded a Research Supplement to Promote Diversity in Health-Related Research by the National Institute of Mental Health (NIMH) to support her research.
Niesha Savory studies the mechanisms of memory in the lab of Shannon Farris, assistant professor at the Fralin Biomedical Research Institute.  In 2019, through the Virginia Tech Carilion School of Medicine Early Identification Program, Savory learned about the National Institutes of Health-funded, 10-week neuroSURF program at the Fralin Biomedical Research Institute, and she spent the summer working in Farris's lab.
"I hope to become an M.D./Ph.D., ideally studying dementia caused by Alzheimer's and other neurodegenerative diseases while also seeing patients afflicted by those very diseases," Savory said.