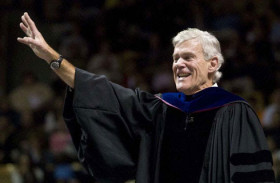 Congratulations to our very own Scott Geller and CABS for receiving an Office of Undergraduate Research (OUR) Faculty Grant! 
OUR faculty grants are aimed at scaling and increasing access to authentic undergraduate research experiences at Virginia Tech.  Their proposal creates a Course-based Undergraduate Research Experience (CURE) on Positive Psychology.  This semester, the class will be taught as a PSYC 2984 Special Study for 60 undergraduates.
Congratulations, Scott and CABS!