Event Location
Graduate Life Center
Virginia Tech graduate students and upper level undergraduates are invited to apply for the Communicating Science (ComSciCon-Virginia Tech) workshop, to be held on February 27th and 28th, 2020! The ComSciCon workshop is designed to empower graduate students to communicate complex and technical concepts that arise in research in STEAM fields to broad and diverse audiences! This is a great workshop to attend for any researcher who would like to communicate scientific concepts more broadly, as well as a fantastic opportunity for personal development! There will be no cost or fee to attendees.
Attendees will have the opportunity to choose their own science communication adventure and attend workshops in the morning and afternoon of February 28th. Workshops include finding the story in your research, condensing your research into a nutshell, learning about accessibility, sci comm careers, social issues, policy and advocacy work, and MORE!
The application for the workshop is open NOW until February 3rd but spots are limited so register NOW at https://docs.google.com/forms/d/e/1FAIpQLSc2Y7P_LXoksnwIgdM4kcZ_T6xkOs1kPsbE7PH_xui48Er5Vg/viewform.
For more information, please contact ComSciCon organizing committee co-chairs Stephanie Edwards Compton (sedwrds3@vt.edu) or Susan Chen (schen518@vt.edu).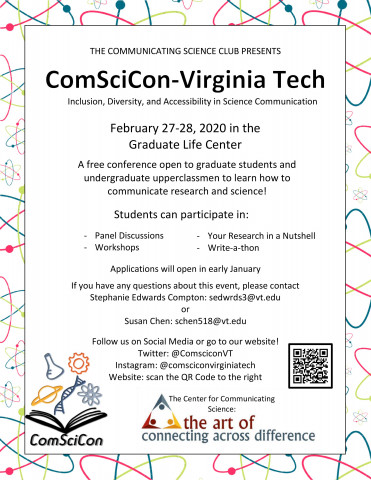 Contact for more information