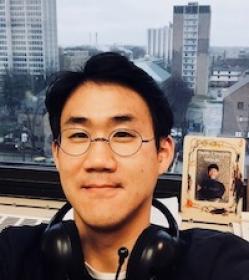 Faculty, Department of Psychology
Faculty, Developmental Science
Faculty, Biological Psychology
Office Hours
12PM – 1 PM, WED
11AM – 1PM, FRI

or Please contact me via email

Office Address
223 (office) & 234 (lab) Williams Hall
Short Bio
Tae-Ho Lee is an Assistant Professor of Psychology at Virginia Tech. He received his PhD in Brain Cognitive Science in the Department of Psychology from the University of Southern California and M.A. in Clinical Psychology from Korea University. He is the recipient of the APS' "Rising Star" award in 2020. His research focuses on 1) what and how neural developments occur during the adolescence with the consideration of significant others' neural level influence in the brain and 2) how the affective system in the brain changes as children get developed.

Interests
Dyadic neural concordance of family and its impact on the adolescent emotional development
Arousal-age interaction on visual perception and memory encoding: ABC and GANE model for emotional arousal
Brain connectome dynamics in emotional processing
Select Publications
Lee, TH, Kim, SH, Katz, B., Mather, M. (2020). The Decline in Intrinsic Connectivity Between the Salience Network and Locus Coeruleus in Older Adults: Implications for Distractibility, Frontiers in Aging Neuroscience.
Lee, TH, Perino, MT, McElwain, NL, & Telzer, EH. (2019). Perceiving facial affective ambiguity: A behavioral and neural comparison of adolescents and adults. Emotion.
Lee TH, Greening SG, Ueno T, Ponzio A, Clewett D, Sakaki M, Mather M (2018). Arousal increases neural gain via the locus coeruleus-norepinephrine system in younger adults but not in older adults, Nature Human Behaviour
Lee TH, Miernicki ME & Telzer EH (2017). Families that fire together smile together: Resting state connectome similarity and daily emotional synchrony in parent-child dyads, NeuroImage.
Degrees
2015 Ph.D. University of Southern California
2006 M.A. Korea University
2004 B.A. Korea University