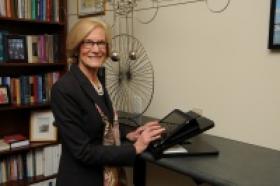 Research Professor and Distinguished Research Scholar, Fralin Biomedical Research Institute at VTC
Research Professor, Department of Psychology, College of Science
Professor, Department of Psychiatry and Behavioral Medicine, School of Medicine


Office Hours
By appointment
Office Address
Fralin Biomedical Research Institute at VTC
R-2012, Riverside 2
Roanoke, VA 24016
Short Bio
University of Washington Seattle: Post doctoral fellowship
University of Washington Seattle: Ph.D.
Select Publications
Van Horn, L.M., Jaki, T., Masyn, K., Ramey, S.L., Smith, J.A., & Antaramian, S. (2009). Assessing differential effects: Applying regression mixture models to identify variations in the influence of family resources on academic achievement. Developmental Psychology, 45:1298-1313.
Ramey, S.L., & Ramey, C.T. (2007). Establishing a science of professional development for early education programs: The Knowledge Application Information Systems (KAIS) theory of professional development. In L.M. Justice & C. Vukelich (Eds.). Achieving excellence in preschool language and literacy instruction. (pp. 41-63) New York: Guilford Press.
DeLuca, S.C., Echols, K., Law, C.R., & Ramey, S.L. (2006). Intensive pediatric constraint-induced therapy for children with cerebral palsy: A randomized controlled crossover trial. Journal of Child Neurology, 21:931-938.
Ramey, C.T., Ramey, S.L., & Lanzi, R.G. (2006). Children's health and education. In I. Sigel & A. Renninger(Eds.). The handbook of child psychology. Vol. 4 (pp. 864–892) Hoboken, NJ: Wiley & Sons.
Sparling, J., Dragomir, C., Ramey, S.L., & Florescu, L. (2005). An educational intervention improves developmental progress of young children in a Romanian orphanage. Infant Mental Health Journal, 26:127-142.
Ramey, C.T., & Ramey, S.L. (2004). Early learning and school readiness: Can early intervention make a difference?. Merrill-Palmer Quarterly, 50:471-491.
Klerman, L.V., Ramey, S.L., Goldenberg, R.L., Marbury, S., Hou, J., & Cliver, S.P. (2001). A randomized trial of augmented prenatal services for multi-risk, Medicaid-eligible African-American women. American Journal of Public Health, 91:105–111.