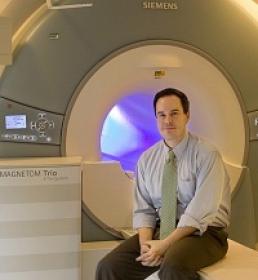 Faculty, Department of Psychology
Core Faculty, Clinical Science
Faculty, Biological Psychology
Supervising Faculty, Psychological Services Center
Affiliated Faculty, VT Autism Clinic
Faculty, Virginia Tech Autism Clinic and Center for Autism Research
Director, Social Clinical Affective Neuroscience Lab
Office Hours
Thurs - 11-2
Office Address
321 Williams Hall
Short Bio
My program of research broadly seeks to advance knowledge of how the brain processes social information and clinical manifestations of faulty social information processing. Specifically, I am interested in how variation in neural circuits leads to impairment in two highly prevalent and debilitating disorders: autism and social anxiety disorder (SAD).
At first pass, autism and social anxiety are ostensibly quite different. However, they also share something fascinating in common: they are both disorders characterized by disruptions in social cognition. Social cognition broadly refers to the encoding and processing of social information, however it is also much more than that. It involves a constellation of perceptual and cognitive skills, forming a continuum from basic automatic processes, such as perception and codification of human emotion, all the way to the complex, effortful capacity to maintain reciprocal relationships with others. A fundamental goal of my research is to identify the neural and behavioral components of deficits in social cognition in autism and SAD at multiple levels across this continuum in order to understand the biological bases of etiology, mechanisms and heterogeneity.
I am especially interested in two neuronal circuits that appear to offer clues as to how emotional information is processed (and mis-processed) in the brain: the mesolimbic dopamine reward pathway, and the dorsal/ventral attention streams of the right hemisphere. The working hypotheses that drive my program are that these networks 1) contribute significantly to abnormal social functioning in autism and social anxiety in both shared and unique ways, 2) are highly genetically regulated, and 3) are ideal targets for behavioral and pharmacological treatment. The central objective of my research is to close the gap between basic and clinical research by translating knowledge of mechanistic function into intervention.

B.A. - Psychology, Sociology; Penn State University, State College, PA.
M.S. - Clinical Psychology, Florida State University, Tallahassee, FL.
Ph.D. - Clinical Psychology, Florida State University, Tallahassee, FL.
Fellowship - Cognitive Neuroscience, Boston University, Boston, MA.
Clinical Residency - Medical University of South Carolina, Charleston, SC.
Postdoc - Cognitive Neuroscience, Univ. of North Carolina / Duke Univ. Chapel Hill & Durham, NC.
Recent Courses Taught
Abnormal Psychology (3014)
Personality Research Methods (4054)
Adult Psychopathology (5284)
Clinical Neuroscience (6954)