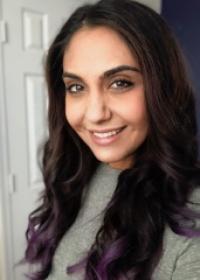 Doctoral Candidate
Clinical Science, Virginia Tech
Student Affiliate: Biological Psychology

Intramural Pre-doctoral Fellow
DHHS/NIH/NIMH/LBC/SN
Laboratory of Brain and Cognition

Clinical Practicum Trainee
Neurodevelopmental and Behavioral Phenotyping Service
NIMH/PDN
Short Bio
I am currently a PhD candidate in Clinical Science at Virginia Tech working with Dr. John A. Richey and an intramural pre-doctoral fellow at the National Institute of Mental Health working with Dr. Leslie G. Ungerleider and Dr. Shruti Japee. I am pursuing an academic and policy focused trajectory through training in clinical science, decision neuroscience, fMRI/fcMRI, and computational modeling techniques. My long term career goal is to continue my translational and clinical program of research within an academic medical center or university department.
Interests
Clinically, I take a dimensional approach to understanding psychopathology and identifying mechanisms of cognitive, affective, and behavioral change. I use several computational/analytic tools and functional neuroimaging methods (e.g. fMRI, fcMRI rsfMRI) to understand how sensory and affective systems interact and integrate information to drive individual differences in attentional and behavioral approach and avoidance. The long term aim of my program of research is to identify and precisely target mechanisms of change in social and emotional functioning, and improve the quality of life of patients with considerable impairments in these domains (e.g. Autism Spectrum Disorder, Social Anxiety Disorder, Mood Disorders, etc). I enjoy working with healthy and clinical populations across the lifespan and across diagnostic classes because I believe its provides a unique perspective into how similar mechanisms may underlie different outcomes (multi-finality), and how different mechanisms may underlie similar outcomes (equifinality).


Current Project: The shared and unique role of anxious arousal and perceived control on individual differences in inflammatory and affective outcomes


Dissertation: Neural substrates underlying simultaneous perceptual noise and reward uncertainty in decision making
Recent Courses Taught
Fall 2016: PSYC 2034- Developmental Psychology
Fall 2016: PSYC 3014- Abnormal Psychology
Spring 2016: PSYC 2064- Nervous Systems and Behavior
Fall 2015: PSYC 2064- Nervous Systems and Behavior
Spring 2015: PSYC 2064- Nervous Systems and Behavior
Fall 2014: PSYC 2064- Nervous Systems and Behavior
Select Publications
Preprint


Ghane, M., Sullivan-Toole, H., Del Giacco, A.C., Richey, J.A. (September 2019). Subjective arousal and perceived control clarify heterogeneity in inflammatory and affective outcomes. Preprint: PsyArxiv, https://doi.org/10.31234/osf.io/765yq (Currently Under Review at Brain Behavior and Immunity)


Reviewed & Published


Ghane, M., & Sparer, T. (2019). An Integrative and Mechanistic Model of Impaired Belief Updating in Schizophrenia. The Journal of Neuroscience, 39(29), 5630–5633. https://doi.org/10.1523/JNEUROSCI.0002-19.2019


Valdespino, A., Antezana, L., Ghane, M., Richey, J.A., (2017). Alexithymia as a transdiagnostic precursor to empathy abnormalities: the functional role of the insula. Frontiers of Psychology-Clinical and Health Psychology. https://doi.org/10.3389/fpsyg.2017.02234


Jangraw, D.C., Gonzalez-Castillo, J., Handwerker, D.A., Ghane, M., Rosenberg, M.D., Panwar, P., Bandettini, P.A. (2017). A functional connectivity-based neuromarker of sustained attention generalizes to predict recall in a reading task. NeuroImage, Volume 166, Pages 99-109. https://doi.org/10.1016/j.neuroimage.2017.10.019.


Richey, J. A., Ghane, M., Valdespino, A., Coffman, M. C., Strege, M. V., White, S. W., & Ollendick, T. H. (2016). Spatiotemporal Dissociation of Brain Activity Underlying Threat and Reward in Social Anxiety Disorder. Social Cognitive and Affective Neuroscience, nsw149. http://doi.org/10.1093/scan/nsw149


Richey, J.A., White, B.A., Valdespino, A.D., Ghane, M., Keough, M. & Schmidt, N.B. (2015) Attentional control of anxiety related symptoms during an ecologically valid stressor.
Degrees
M.A., Psychology, Concentration in Cognitive and Behavioral Neuroscience, San Diego State University, San Diego, CA
B.S., Psychology and English Writing, Elmhurst College, Elmhurst, Illinois