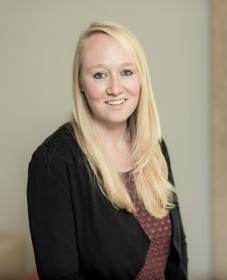 Assistant Professor, Department of Psychology, Clinical Science Area
Faculty Affiliate, VT Center for Autism Research
Office Hours
Mondays 9 - 11 am (via Zoom)
Fridays 9 -10 am (via Zoom)
Office Address
Williams Hall Room 117
Clinical Sciences Suite Room 104
Short Bio
*** Dr. McDonnell will not be accepting a graduate student for the 2021-2022 academic year. ***

The overall goal of my research is to identify processes that promote socio-emotional functioning and reduce broader healthcare disparities in the contexts of autism spectrum disorder (ASD), traumatic stress, and other forms of psychopathology. More specifically, my research seeks to (1) characterize the experience of trauma in ASD and other neurodevelopmental disorders given the high rates of abuse among children with developmental disabilities, (2) reduce disparities in ASD identification and treatment via assessment of diagnostic experiences and evaluation of outcomes that are not typically addressed in current behavioral interventions, and (3) evaluate developmental processes with clinical relevance, including parental emotion socialization interactions, that can be translated into interventions for families affected by ASD.
Interests
Autism spectrum disorder and developmental risk
Traumatic stress and child maltreatment
Dissemination and implementation for underserved communities
Parent-child interactions and emotion socialization
Developmental psychopathology and cognitive-behavioral therapy
Recent Courses Taught
Neurodevelopmental Disorders (Senior Seminar PSYC-4364)
Child Psychopathology (PSYC-6265)
Clinical Practicum (PSYC-6964)
Select Publications
McDonnell, C.G., Boan, A.D., Bradley, C.C., Seay, K.D., Charles, J., & Carpenter, L.A. (2018). Child maltreatment in autism spectrum disorder and intellectual disability: Results from a population-based sample. Journal of Child Psychology and Psychiatry, 60(5), 576-584. doi: 10.1111/jccp.12993


McDonnell, C.G., Bradley, C.C., Kanne, S.M., Lajonchere, C., Warren, Z., & Carpenter, L.A. (2019). When are we sure? Predictors of clinician certainty in the diagnosis of autism spectrum disorder. Journal of Autism and Developmental Disorders, 49(4), 1391-1401. doi: 10.1007/s10803-018-3831-3


McDonnell, C.G., & Valentino, K. (2016). Intergenerational effects of childhood trauma: Evaluating pathways among maternal ACES, perinatal depressive symptoms, and infant outcomes. Child Maltreatment, 21(4), 317-326. doi:10.1177/1077559516659556


McDonnell, C.G., Fondren, K., Speidel, R., & Valentino, K. (2019). Emotion socialization and developmental risk: Interactive effects of receptive language and maltreatment on reminiscing. Journal of Child and Family Studies. Advance online publication.


McDonnell, C.G., DeLucia, E.A., Hayden, E.P., Anagnostou, E., Nicolson, R., … Stevenson, R.A. (in press). An exploratory analysis of predictors of youth suicide-related behaviors in autism spectrum disorder: Implications for prevention science. Journal of Autism and Developmental Disorders.
Degrees
PhD - University of Notre Dame
Clinical Internship - Charleston Consortium (MUSC)
MA - University of Notre Dame
BA - University of Notre Dame