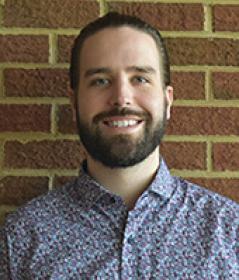 Office Address
225 Williams Hall
Short Bio
Bryan Acton is entering his 5th year in Virginia Tech's I/O Psychology PhD program. He graduated Summa Cum Laude with a B.A. in Psychology from MCLA in 2013 and subsequently worked for Dr. Wendy Donlin Washington at UNC Wilmington on applying contingency management interventions to increase exercise behaviors prior to attending graduate school.

As a member of the Interface of Leadership and Teams lab (ILT lab), his primary research interests lie in modeling team behavior and leadership in a dynamic fashion. He is currently focused on projects that study newly formed teams over time, with a specific focus on the role that team composition plays in this dynamic process. Additionally, he is interested in the use of agent based modeling and other forms of computational modeling and data simulation for the study of leadership dynamics.
Interests
Team Dynamics
Informal/Emergent Leadership
Antecedents of Team Leadership and Leader Emergence
Leader/Follower Perceptions
Multilevel Theory
Computational Modeling/Data Simulation
Recent Courses Taught
PSYCH 2004: Introduction to Psychology (recitation)
PSYCH 2084: Social Psychology
Select Publications
Acton, B. P., Foti, R. J., Lord, R. G., & Gladfelter, J. G. (In Press). Putting emergence back in leadership emergence: A dynamic, multilevel process-oriented framework. The Leadership Quarterly.
Degrees
2013 B.A., Massachusetts College of Liberal Arts, North Adams, MA
2016 M.S., Virginia Tech, Blacksburg, VA